Contact:
If you have a question about InstaBackgrounds, or any other Vortex Media product, please send us an email. We promise to answer all customer inquiries promptly. Thank you!
Vortex Media
5600 Post Road #114-335
East Greenwich, RI 02818me
---
Frequently Asked Questions:


How much do InstaBackgrounds cost?
Our prices make it affordable to use royalty-free InstaBackgrounds in productions of all budgets. Full HD (1920x1080) clips are only $25 each and all 4K clips (4096x2160) are priced at $35.
---
How are InstaBackgrounds delivered, and what type of files are they?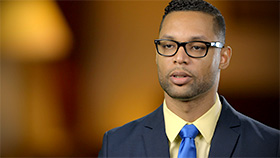 After you place your order you will receive a download-link immediately and email confirmation within a few minutes. Depending on your Internet connection speed, downloading may take a few seconds or a few minutes.
InstaBackgrounds are delivered as industry-standard Photo-JPEG Quicktime movies for maximum compatibility with Windows PCs, Macs, and all the major NLE software programs. If you have any concerns about compatibility, please download the sample images that we provide before placing a purchase. The sample images are the same dimensions, codecs, and file types of the real files.
---
Can you deliver any other file formats?
Yes. Although Photo-JPEG files are universally compatible, sometimes a different file format may be preferred -- such as ProRes, ProRes HQ, H.264, XDCAM, XAVC, or something else. If you need a different format, please contact us with your exact specifications and we will provide a custom quote. Most custom orders can be fulfilled the same day they are received.
---
How big are InstaBackground files?
It depends on the type of file. Our HD files average round 120 MB each, and our 4K files average about 600 MB. The actual file size for each InstaBackground is listed in the right-hand column of the ordering page.
---
What is your refund policy?
All sales are final and all charges from those sales are non-refundable. We have a NO REFUND POLICY with digital downloads. Before you click purchase on the final confirmation page, make sure that what you're about to order is correct. If you experience any problem with your download, please contact us immediately at sales@InstaBackgrounds.com, or try downloading the file again.
---
Can I use a background that I have purchased in more than one video?
Yes. InstaBackgrounds are "Royalty Free". This means that aside from the purchase price, no further fees or compensation are due regardless of how many times the InstaBackground file is used or how many projects it is used for, provided that the file may be used only by ONE SINGLE user in accordance with the terms and conditions of our End User Licensing Agreement.
---
Can I share InstaBackgrounds that I have purchased?
No. Although you may use InstaBackgrounds in client productions, you may not share the downloaded InstaBackgrounds files that you have purchased with clients or colleagues. Any manner of sharing or transferring of files to others is prohibited. Please consult our End User Licensing Agreement for a complete list of terms.
---
How can I find out if a particular InstaBackground will look believable behind an interview that I have already shot?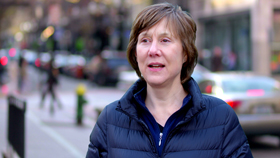 The best way to determine if a certain InstaBackground is appropriate for a particular interview is to download the sample file of that clip and try it out in your NLE with the interview. We provide a full-resolution (watermarked) HD video clip and 4K still image for EVERY background on our website. This is similar to how music producers allow you to try out a watermarked audio clip and then replace it with the real thing once you have determined it's what you really want.
---
What is the duration of an InstaBackground clip, and what if I have an interview sound-bite that runs longer than that?
Every InstaBackground has a minimum duration of 30 seconds and most of them can be seamless looped to extend them to any length that you need to cover a longer sound-bite. "Seamlessly looped" means that multiple copies of the clip can simply be butted up against each other on a timeline with no risk of getting jump-cuts in the video or audio.
---
I notice that some indoor InstaBackgrounds don't have any movement in them, so why not just use a still image instead of a video clip?
In video and television production the use of freeze frames, still photographs, or computer-generated graphics is readily apparent and looks fake because those images don't have any noise, grain, or moving texture in them. All REAL video clips have subtle motion in them -- even if the camera or background never changes. For this reason, it is imperative that you use real video clips as your backgrounds if you want to successfully achieve the illusion that your interview was NOT shot in front of a green screen.
---
Do InstaBackgrounds include sound?
Some do and some don't. Almost every outdoor clip includes nat-sound that can be mixed underneath your talent's audio to get a realistic (and believable) mix. And many indoor clips also include sound whenever it is appropriate, such as machinery or crowd noise.
---
Why do InstaBackgrounds clips look blurry?
InstaBackground plates are purposely shot out of focus so they look as realistic as possible. There's just no substitute for shooting a real background, with a real lens, focused as if the talent was actually positioned about 8 to 12 feet from the camera.
---
What advantages do 4K images have over HD images?
The main benefit is the higher resolution of 4K. There are 8 million pixels on-screen compared to the 2 million in a 1080P display. That means that you can rescale the 4K InstaBackground and change the framing to create a more believable final composite -- while still maintaining Full HD 1080P resolution. (roll your mouse over the image below to see the difference)
---
Do I need any special lighting?
No, but lighting can make or break your green screen effect. There's no substitute for choosing a InstaBackground that matches the style of lighting on your talent (or vice versa). You want to sell to the viewer that the talent belongs in that environment and they don't look out of place. Your goal should be to "put" the talent in a virtual environment that looks realistic and appropriate. Please see our tutorials page for more information.
---
What software was used for the examples in your demo video and on the website?
We used the Ultra Key plugin that comes standard with every copy of Adobe Premiere. Any shots that required contrast adjustments or color correction were done with the Fast Color Corrector plugin. No 3rd-party plugins or other software was used to create our examples.
---
Are 4K images difficult to edit with?
They shouldn't be. If you have a good computer and a recent version of your favorite NLE software you should have no problems adding a few 4K clips to an 1080P, 720P, or SD timeline. InstaBackgrounds have been tested with Adobe Premiere CC and CS6, Final Cut Pro 7 and X, Sony Vegas, Grass Valley Edius, and Avid. Other professional NLE software should work, but have not been tested by Vortex Media.
---
Where should I position the talent against the InstaBackground to create a pleasing and balanced composition?
InstaBackgrounds are created with the rule of thirds in mind and interviews will usually look best when the talent is off-center in the frame. The camera should be positioned so that it is at the same level with the talent's eyes.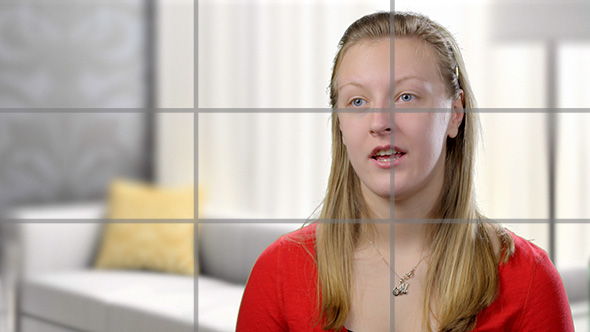 For shots where the talent is looking directly into the camera, they can be placed in the center of the frame or a little off-center -- whatever works best!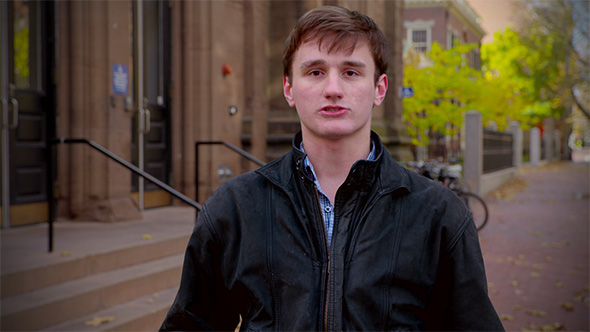 ---
Why is there a slight difference in framing between the HD clips and 4K clips?
This is due to the different aspect ratios of 4K and HD. As you know, HD (1920x1080) has an aspect ratio of 16:9. But professional 4K video (4096x2160) is closer to 17:9. This means that our 4K images have wider dimensions than HD. At InstaBackgrounds, we deliver the full-width 4K image to give you maximum flexibility in post.
---
It is possible to change the "look" of an InstaBackground?
Absolutely! You can change the white balance, flip it horizontally to reverse direction, darken, lighten, add more blur, add a vignette around the edges, grade individual elements, add or reduce contrast, change the color saturation, and much more. In addition, because of their high resolution, 4K InstaBackgrounds allow you to change the framing by zooming-in (up to 2x), panning, cropping, and rotating the image without ever affecting the picture quality.
InstaBackgrounds provide maximum versatility and are easy to customize with any NLE's built-in image adjustment tools. Imagine the power of being able to make infinite adjustments to the background image without ever affecting the talent in the foreground.
---
Does it matter if my chroma-key background is green or blue?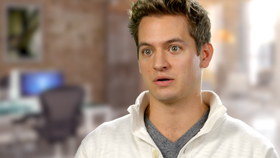 Either color can be used, but green has become the favored color because digital cameras retain more detail in the green channel, and it requires less light than blue. Green not only has a higher luminance value than blue, but also the green channel is typically sampled twice as often as the blue, making it easier to work with. Also, the green background is favored over blue for outdoor shooting where the blue sky might appear in the frame and could accidentally be replaced in the process.